This page is dedicated to all veterans..........
Theodore (TED) Antaya
Born : Dec 9, 1932
Location: Tecumseh Ontario
Military Service: May 1951 – Aug 1954
Rank: Sapper – Royal Canadian Army Engineers
Where: Korea between March 1953 – April 1954

Re-joined Military: Royal Canadian Reserve
Military Service: Aug 1958 – Dec 1961
Rank: Private
Based in: London Ontario
Medical Released

---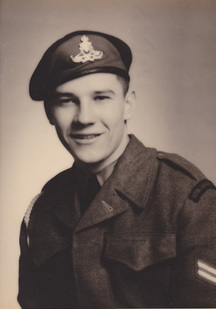 Gerald J. Becigneul
Where Born: Sandwich, Ontario
Discharge: June 6, 1951
Tour of Duty: Korea
Rank: Bombardier
Discharge: Sept. 1954

I enlisted in the Service and became part of the Bdr SA 1616 216 Battery RCHA.We embarked for Korea in April 1953 and Returned to Canada in May 1954.

War is not a fun game. The most traumatic experience was to witness our fellow comrades being killed or wounded in action. Also to see the Korean children and elders without adequate food or clothing during the seasons and suffering the harships caused by the war.

Upon my revisit to Korea in 2008, I was amazed at the great changes over the years. That was when I realized that our contribution toward peace was not in vain.


---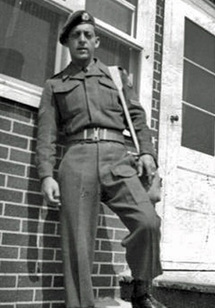 Edward Caza
Born : Ford City, Ontario
Enlisted Royal Canadian Navy for World War II at age 15

Re-enlisted 1946 – Royal Canadian Navy
Served on tribal Class Destroyer HMCS Haida & HMCS LaHulloise
Transferred in 1949 to Royal Canadian Army Service Corp.
In 1951 Served in Korea from July 1951 – Oct 1952
Later served in Montreal – Ste Jean Quebec Military College
Then to London Ontario at Instructional Cadre
Released Dec. 1955

At age 15 I enlisted in the Royaol Canadian Navy during World War II
After the war work was unavailable so I reinlisted into the Royal Canadian Navy in 1946 and served on the Tribal Class Destroyer HMCS Haida – the Minesweeper HMCS Portage and the HMCS LaHulloise

In 1949 a shortage of auto mechanics in the Canadian Army became apparent and so I volunteers to transfer to the Royal Canadian Army Service Corp.

In 1951 served in Korea as a non commissioned officer for 15 months from July 1951 to Oct 1952. Later I served in Montreal – St. Jean Quebec Military College and lastly in London Ontario at the instructional Cadre. In 1955 I decided I had enough and was released in December of 1955.

After my release I worked at Bendix Automotive for 23 years and retired on a disability.
I'm married and have raised 5 children – one who served in the Canadian Navy for 32 ½ years. He went on to serve as Coxwin at HMCS Hunter after retirement and today is serving as Formation Chief of Naval Reserves of Canada.

---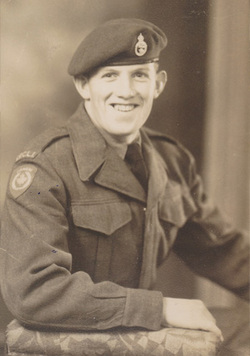 Bernard Cote
Born: Windsor Ontario
Enlisted: July 1950
Tour Duty: Korea – Dec 1950
Rank: Private
Tour Duty: Germany 1953-1956
Discharged: April 1956


---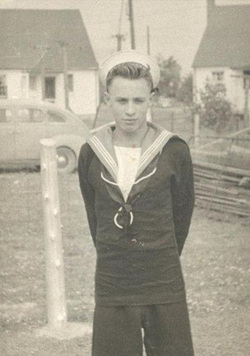 Edwayn Richard Crundwell
Born: Sandwich East, Tecumseh, Ontario
Enlisted: 1951
Tour of Duty: North & South Atlantic and North Pacific
Indian Ocean & Mediterranean Sea
Rank: Leading Seaman QR
Discharged: January 1956

In 1951,
• I joined the Navy, signed up at H.M.C.S. Hunter in Windsor, Ontario.
• Born in 1933 in Sandwich East Township (Windsor) and in 1938 moved to Dresden, Ontario
• Basic seaman training done on the H.M.C.S. Magnificent..
• Trained at the H.M.C.S. Stadacona for Gunnery Courses..
• During my 5 years in the R.C.N. I sailed on Aircraft Carrier, Cruiser, Destroyer and Mine Sweepers.
In 1953,
• I was off to war in Korea on the H.M.C.S. Huron and then stayed on for Peace Keeping.
• After 11 months I was then drafted to H.M.C.S. Quebec and we were the first Canadian Ship to circle Africa.


• I circumnavigated the world but did not cross the Equator.
• Sailed on the North & South Atlantic Oceans and North Pacific, Indian Ocean & Mediterranean Sea.
• Passed through Suez and Panama Canals.
• Later drafted back to H.M.C.S. Stadacona , completed my 5 years service as rank as LSQR" and discharged January, 1956.


---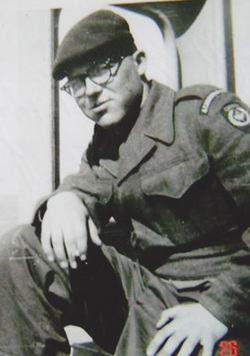 Robert "Bob" Goyeau
Born: Windsor, Ontario
Enlisted: Dec 16, 1952
Tour Duty DMZ Korea April 1 – Nov15 1954
Rank Private
Discharge Dec 16, 1955


---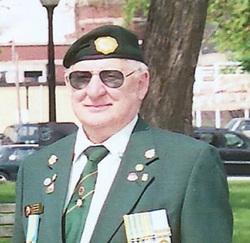 Vaughan Bernard Johnson
Born: Coe Hill, Ontario
Enlisted: Dec 8, 1950
Tour Duty: Canada, Japan, Korea
Rank: Private
Discharge: Nov 20, 1952

"My name is Vaughan Bernard Johnson born in Coe Hill, Ontario on October 7, 1928. I come from a military family with my father having been in WWI and I had two brothers in WWII, one in the Navy and one in the "The First Special Service Force" nicknamed "The Devil's Brigade". At present I have a daughter with 30 years service in the R.C.A.F. or R.A.F.
I volunteered for service in the R.C.A.S.C. (R.C.A. Special Force) on December 8, 1950. After training I was shipped out as an ambulance driver for 25th Field Ambulance, Medical Corps. On arriving in Korea, I was assigned the job as Quarter Master Driver, then later as driver to haul 40 gallon drums of gas for the unit. Transferred again to delivering dispatches with a jeep and also used as a driver to take Officers to meetings. After that I was transferred to 54th Transport hauling 4.2 mortar shells to the English Mortar Platoons at the front lines. I was given the nickname of "Suicide Jockey" by some. My last transfer was to the position as a Wireless Radio Operator for my unit. Where ever there was help needed I was put in that position.
I am proud to have served my my country in the R.C.A. in whatever capacity I was needed in order for South Korea to gain their freedom."


---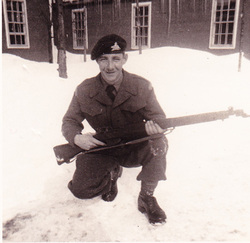 David Labonte
Born: Tecumseh, Ontario
Enlisted Nov 6, 1951
Tour Korea
Rank: Corporal
Discharge Nov 16 1954

Born in Tecumseh, ON, in 1931. I attended school at St. Antoine's and High School at Assumption. I joined the service in Nov 1951, enlisting in the 1st Battalion R22nd Regiment stationed in Valcartier Que. After basic and advance training we were shipped to Korea. After about 13 months in Korea, we were returned to Canada. I then attended Paratroop School and after 6 weeks of training, I became a paratrooper. Next I became an instructor to recruits for a few months. I was released from service in November 1954.

One of the most memorable experiences was when we were docked in Yokohama Japan for 2 days to take on more supplies and troops. Our Commanding Officer refused t give us a pass to visit the city, so after dinner about 7pm some R22nd R. members decided to throw a rope over the side of the ship and slide down the rope to a tug docked between our ship and the dock. After a few went over, it triggered others to do the same and about 200 of us went down before the Officers could stop us. We ran through the gates and into the city where we visited the city, mostly the bars etc. We returned to the ship by about 3am. We were all paraded in front of the Commanding Officer the next day and were all fined one days pay. It was well worth it as we all had a good time in Yokohama Japan.

---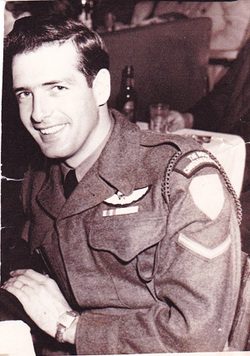 William "Bill" Lappan
Born: Riverside, Ontario
Enlisted February 14, 1951
Tour Korea
Rank Private
Discharged Feb 13, 1954


---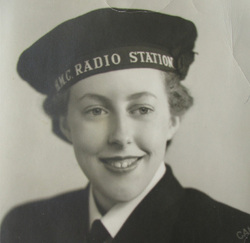 Ruth Anne (Babcock) Lavoie
Born: Toronto
Enlisted: September 1951
Tour HMCS Cornwallis, HM Radio Station Coverdale, HMCS Naden
Rank Ordinary Wren
Discharged May 8 1953

My Name is Ruth Ann Babcock and I was born in Toronto, Ontario. I joined the Womens Royal Canadian Navy (WRENS) in September of 1951. I did 19 weeks of training at HMCS Cornwallis, Nova Scotia. Once training was done I then transferred to H.M.C.S. Coverdale, New Brunswick, which was established as a Special Wireless Station (HF/DF), on Nov 23, 1942. It was situated across the Petitcodiac River, slightly south of Moncton, New Brunswick. Construction was completed in the January-February 1944 period and commencement of operations began when WRENS started arriving in numbers.
I was unable to tolerate the high pitch of Morse Code over the earphones, so I put in for yet another transfer.
My transfer in Dec of 1952 took me to H.M.C.S. Naden in Victoria B.C. where I trained as a Nurse. I stayed there till I was Honourably Released in May 1953.


---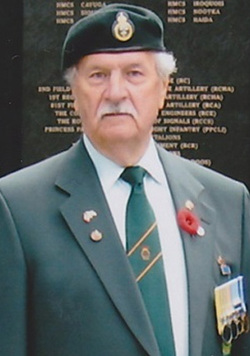 Henry Martinak
Born: Windsor Ontario
Enlisted: August 16, 1950 – London Ontario
Tour: Canada, U.S.A. Korea & Japan
Discharged : 1953
Re-Enlisted: Special Force 1954 – 1957
Camp Gagetown, New Brunswick


---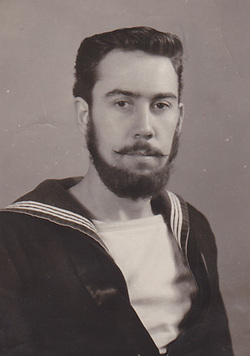 David Parent
Born: Sandwich East, Ontario
Enlisted: 1950
Tour: Korea
Rank: Leading Seaman –Stocker
Discharge March 1955

Veterans' memories not foggy

By Holly Lake – Ottawa Sun

Not everyone can thank fog for their lives.

But Korean War veterans Glenn Wilberforce and Dave Parent know it was all that saved them the day their destroyer ran aground, leaving them high and dry in communist territory. It was 1953 and enemy North Koreans were nearby.

"If they can seen us, we would have been dead ducks," said Parent of Windsor.

When the HMCS Huron, a 380-ft destroyer, ran aground at 12:38am, July 13, they'd just ended their watch in the engine room and were crawling into their hammocks.

The force threw Wilberforce out of his, on to the table below and then on to the mess deck.

"I had one foot in the hammock and the other on the table. Glenn came falling out and almost hit me on the way down," Parent recalled, laughing.

The day is etched in Wilberforce's mind as it was the scariest one he spent on the seas between 1952 and 1955. While the same is true for Parent, it was also the day he turned 22. Going aground meant he didn't get a birthday tot of rum.

The captain ordered all excess weight off the ship. The first thing to go overboard was a piano, thanks to Parent and Wilberforce. It refused to sink, however, so they threw shells at it to force it under. "we never saw a piano float again," said Wilberforce, of Gananoque.

Nine hours later, the 290-man crew and all weight on board shifted to the back of the boat. With engines full astern, the captain got them off the island

American destroyers and an aircraft carrier had moved in. Overhead, bombers were also ready to ward off the enemy.

"They were there for us," Parent said.

MISSING HOW

What was not there was 40 feet of bow and the ship's submarine detector. The Huron was forced to said backwards for 600 miles into Japan, where the Japanese built here a new bow.

"We had the world record for a Canadian warship sailing astern," Parent said. "We were ass-backwards.

Yesterday, the pair were among the 200 veterans who gathered at the National War Memorial to mark the 50th anniversary of the signing of the Korean War armistice agreement. They Reminisced of old times, remembering friends last on there sister ship (Iroquis) and spoke .of their Korean comrades, some of whom also took part in the ceremony.

Just like their shipmates, the Koreans are their brothers.

"They're good people," Parent said. "They're one of the most beautiful people I've ever met.

True to their nature, Wilberforce said, two Koreans in uniform walked up to him to say thank you.

"It made me feel great," he said proudly. "They're showing their appreciation and it's appreciated by us"

More than 26,000 Canadians participated in the Korean Was from June 1950 until July 1953. Another 7,000 served as part of the ceasefire until 1955. More than 516 were killed and 1,200 wounded.


---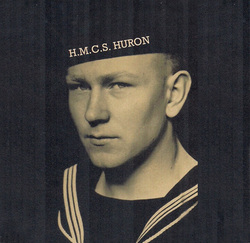 Karl D. Ryckman
Born: Essex Ontario
Enlisted December 1950
Tour: Mediterranean, Caribbean & Korea
Rank: Leading Seaman Engineering Mechanic First Class
Discharged: December 1955

Karl Douglas Ryckman was born on October 28, 1931 in Essex, Ontario. It was December, 1950 when he enlisted in the Royal Canadian Navy at HMCS Hunter in Windsor and assigned his service number of 9595-H. Karl soon found himself on a train headed to Cornwallis, Nova Scotia where he completed five months of basic training. Then in July, 1951, Karl was posted to HMCS Naden in Esquimalt, British Columbia to complete a course in Engineering Mechanics. Returning to Halifax in November, 1951, Karl was then drafted as a stoker to HMCS Magnificent, an aircraft carrier. While on this tour of duty, Karl visited ports in the Mediterranean and Caribbean Seas, as well as attending the Coronation of Queen Elizabeth II in England. He remained with the "Maggie" until July, 1954, at which time he was drafted to HMCS Huron, a tribal class destroyer. The Huron was deployed to Korea for peacekeeping services and remained there until March, 1955, at which time she returned to Halifax Harbour. Karl remained in the Huron until his discharge in December, 1955. At the time of discharge, Karl was a Leading Seaman, Engineering Mechanic First Class (LSEM1).


---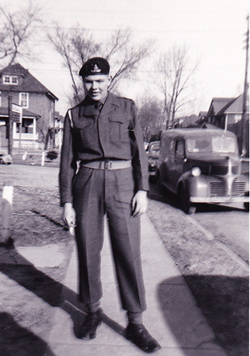 Martin Vermeer
Born: Windsor Ontario
Enlisted: June 1951
Tour: Japan & Korea
Rank: Gunner
Discharge: August 1954


---